Product Owner - VAS Business Unit
Are you a Product Owner, who wants to develop the next generation of healthcare software? Does it sound interesting to be part of a growing company, which was founded in 2014 and now has more than 170 employees in Scandinavia? Does a youthful environment with many social activities, hackathons, good educational budget and remote work possibility sound interesting?


PatientSky reduces the distance between patient and healthcare provider, through a palette of communication tools, mobile apps and web applications. Our products include calendars, patient & clinic communication, journal, medication etc., and we are looking for talented people who will help us build the next generation of products that will build on:
structured information
bringing practitioners and patients closer together
facilitating more transparent processes in the healthcare sector
"Being a part of developing the future of healthcare is exciting, extremely interesting and rewarding! As a product owner in PatientSky, I get to do that at the same time as I get to work in close collaboration with amazingly talented people. I also value our great office vibes and we have a lot of fun together!"
- Emilia, Product Owner
Position responsibilities and work
Being a PO in a software healthcare company is a mix of clinical and contextual understanding, product design and building software applications. Facilitating software to a wide range of healthcare professionals i.e. general practitioners, oncologists, physiotherapists or psychologists requires a good overview and the ability to find simple solutions to complex problems. This position will have a broader range of product interactions and touchpoints; therefore, a strong communication and coordination skill set is a prerequisite. The role requires you to:
dig into the difficulties our customers/patients might have, and with that in mind, create beautiful solutions
create new products for supporting segments or markets in the upcoming international expansions.
This role will be part of a team consisting of a team lead, 2-4x backend developers, 1-2x frontend developers, 1 x product owner, 1 x project manager and some supporting roles i.e. design. The team is expected to double within the next year
Position qualifications
You can have different types of backgrounds i.e. clinical background, technical background or project management and have a proven track record of going from idea to final product.


Formal requirements
Higher education at University or college level or equivalent knowledge
Good written and oral presentation skills in English
3+ years of experience as product manager/product owner
Relevant sector experience or big interest learning it
Experience with international healthcare standards, openEHR, FHIR will be a plus
What is the VAS Business Unit?
The role is within the VAS (Value-Added-Services) Business Unit. VAS mainly focuses on the international SaaS offerings including calendar, electronic health record etc., but also the PatientSky App-Marketplace, internal SaaS tools and new markets. It is a completely new Business Unit that has been established in 2021, to support the increasing international demand for PatientSky solutions.
We offer
Being a PO for a SaaS solutions for the next generation of healthcare software
A company with ambitious growth plans and thus good development opportunities
Great working environment and culture. Your coworkers prefer being in the office, but you can work from your couch, your favorite cafe or abroad when you feel like it.
Morning person or night owl, this job is for you.
Educational budget per employee
Friday bar and Bi-monthly social events
Location: Ryesgade, 2 minutes' walk from Trianglen metro station.
Interested?
Recruitment is handled by iHeadHunt and you can contact Mads on +45 3698 8700, if you want to know more about the role. Applications are continuously assessed, so don't hesitate - apply now! No cover letter needed.
---
About PatientSky

PatientSky was founded in 2014 and made two acquisitions in 2017-2019 to strengthen our offerings. The team consists of 170+ employees across our offices in Denmark (Odense, Copenhagen), Norway (Oslo, Kongsberg, Bergen, Sandane) & Finland (Helsinki). In 2020 we did an IPO, to further strengthen the company and continue our international goals and growth.
Locations

PatientSky, Copenhagen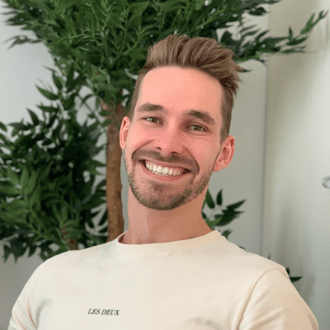 Contact
Mads Ottosen
Recruitment Manager & Business Developer
Product Owner - VAS Business Unit
Loading application form