Chief Technology Officer (CTO)


If you are interested in transforming the open internet away from cookies, while managing the most exciting real-time tech (handling over 650,000 RPS) from 46 countries and want to work in a dynamic, collaborative and international scale-up environment - we would like to meet you!
Who are Digiseg.io
Digiseg.io is a data and analytics company that provides audience data for advertisers and publishers. Our technology empowers digital marketers to deliver targeted advertising to consumers without the use of cookies and tracking of internet users. The future of digital marketing is cookie-less. It is ID free. It is privacy-first. And Digiseg is already growing at an exhilarating pace doing so.
About the role
We seek an experienced Developer, Tech Lead or Architect who is looking to take their career to the next level and become a CTO, or a seasoned CTO who is still willing to dig into the code and architecture. You will lead and expand our team of 3 tech developers and help drive our company's growth.
The ideal candidate will have a deep understanding of software development, data science, and analytics, as well as experience working in a fast-paced start-up or scale-up environment. We are looking for someone who is passionate about our mission and values and committed to delivering tracking-free solutions for our customers.
It is expected that you for the first 6 months will be spending a lot of time understanding and digging into our code together with our current developers.
We are an international team of a total of 14 employees but expect to double our size within 2 years. By 2023, we expect to hire a DevOps, a full-stack and a FE developer, which you will be responsible for hiring. Within 2 years, we expect the tech-team to have grown to 10-12 people.

You will report to our CEO and Co-founder, Søren Dinesen.
Responsibilities:
Lead the technology team in developing and maintaining our platform and products
Collaborate with the executive team to develop and execute on our company's vision and strategy
Drive innovation by researching and implementing new technologies and tools
Ensure the security and scalability of our systems, with a focus on privacy and ethical data practices
Manage the technology budget and resources
Recruit, train, and mentor the technology team, fostering a culture of innovation, collaboration, and continuous learning
Work with the sales and marketing teams to support customer needs and promote our tracking-free solutions
Digiseg's current tech stack is built around the programming language GO, containerisation with Kubernetes and Docker and frontend framework React.js. 
Digiseg use these technologies to:
Generate full reach audience data in 46 countries covering 70% of all digital events
Segment the bitstream for programmatic advertisement in real-time. This system is deployed globally, handling over 650,000 requests per second, with a 10ms deadline for each request.
Run a real-time tag-based measurement system across all 46 markets.
Requirements:
Bachelor's or Master's degree in Computer Science or a related field
8+ years of experience in software development, data science, or analytics
4+ years of experience in a leadership role (Senior developer, Tech Lead, Architect or CTO)
Deep technical knowledge and experience with modern software development languages, tools, and processes – be an active Agilist
Proven experience in managing and scaling technology teams
Strong strategic planning and execution skills
Experience working in a start-up/scale-up or fast-paced environment
We offer:
A career changing opportunity to develop your leadership skills
Take part in our growth-journey and set your footprint
Work with a talented team of professionals in a dynamic and innovative industry
Opportunity to recruit, train and mentor your own team
Courses and training to develop your management skills
A lot of social activities, weekly lunch out of the office and a world class Barista Machine
Offices in the middle of Copenhagen – overlooking the lakes
Competitive salary, equity and benefits package.
The company is self-financed with a very good financial situation. The owners are part of the company.
Location: Copenhagen, Denmark
Interested?
If you are passionate about technology, privacy, and ethical data practices and have the experience and leadership skills to help drive our company's growth - Apply through the link!
If you have any questions or want to hear more about the role – feel free to contact Mads Ottosen on mo@iheadhunt.dk.
---
Digiseg Vision and Mission
– for ethical audience data
We envision a world where ad-tech serves humankind and works in the service of truth.
Digital tracking, echo chambers, fake news, and walled gardens that traffic human decisioning-power must end. Ultimately, press-accredited media, investigative journalism, democracy, and free will are at stake.
Our team's goal is to enable advertisers to target consumers in a tracking-free manner while achieving similar or better returns on advertising spend as the walled-gardens' highly invasive approaches.
We'll know we've reached our goal when the majority of digital campaigns are neither measured nor targeted using personal data and tracking.
Locations

Digiseg.io, Copenhagen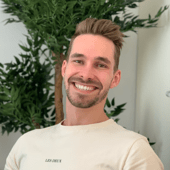 Contact
Mads Ottosen
Recruitment Manager & Business Developer
Chief Technology Officer (CTO)
Loading application form