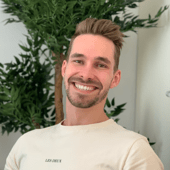 Mads Ottosen
Recruitment Manager & Business Developer
Mads is a Recruitment Manager and Business Developer. In addition to being in charge of recruitments he is responsible for many of the underlying processes and back office tasks in iHeadHunt such as improving our recruitment processes. 
He has a master's degree in economics from the University of Copenhagen, which makes him a strong professional profile with good insight into economics, marketing and statistics.
Mads has a solid knowledge of the IT industry after he has been employed as an economist at Statens It (Department of IT services, within the Danish ministry of finance) for more than 3 years, and both coded in Python, VBA and developed reports and dashboards in Power BI. Finally, he has taught new colleagues in data processing and Power BI.